Gastroschool for patients suffering from acid-dependent diseases of gastro-intestinal tract
The first meeting of gastroschool in Poltava took place on March 10, 2010 on the base of the 1st Municipal Clinical Hospital at support of Deputy Chief Doctor on out-patient and polyclinic work, Pavlenko Vitaliy Vasilyevich. The main audience of gastroschool included patients, who suffer from gastro-intestinal diseases and take interest in health issues, as well as specialists in the field of gastroenterology: gastroenterologists, family doctors and therapeutists.
Specialists presented their reports devoted to acid-dependent diseases of gastro-intestinal tract and recommendations to the patients. The reports were prepared by Yakimchuk Yelena Nikolayevna (the Head of gastroenterological service of the policlinics of the 1st Municipal Clinical Hospital), Parkhomchuk Nina Fedorovna (doctor-gastroenterologist), and Bykov Mikhail Grigoryevich (doctor-endoscopist).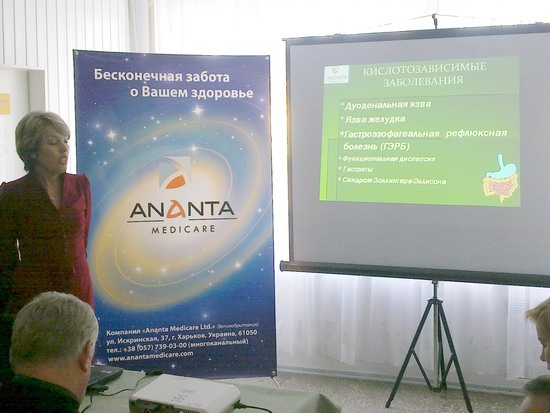 A special place in the work of gastroschool belonged to the report made by Babanina Marina Yuryevna, Candidate of medical sciences, associate professor of the Department of Family Medicine of the Ukrainian Medical Stomatological Academy. The report was dedicated to gastric ulcer, duodenal ulcer, gastroesophageal reflux and touched upon the problems of the reasons of disease development, clinical picture, and main methods of treatment. In her report the author also paid attention to the experience of use of gastroenterological preparations presented by the company Ananta Medicare. Babanina M.Yu. stressed on the effectiveness of the use of modern preparations for treatment acid-dependent diseases – protone pump inhibitor – preparations Panocid (pantoprazole) and Locid (omeprazole), propulsant Nausilium (domperidone), and antimicrobial preparations Aziclar (clarithromycin).
Patients suffering from different acid-dependent diseases of gastro-intestinal tract could be consulted by the doctor-gastroenterologist and undergo fibrogastroscopic examination in the second part of gastroschool's work.