Lipitin A and Flamogrel is the core of cardiovascular accident prevention
At the beginning of April 2010 in Odessa there was held the V South-Ukrainian scientific and practical conference "National standards and indicators of diagnostics and treatment quality of internal disease treatment, 2010-2011", and one of its sponsors was the company Ananta Medicare.
Thoroughly thought-out by its organizers, full of content program of the conference gave medical practitioners – cardiologists, therapeutists, nephrologists, family doctors and doctors of other specialties – the possibility to pick up avalanche of information, necessary to improve treatment of patients.
At the conference there were presented reports of leading specialists from different regions of Ukraine, dedicated to the treatment of patients with arterial hypertension, cardiac insufficiency, diabetes mellitus, etc.
Problems of arterial thrombosis treatment were dealt in the report made by the Doctor of medical sciences, Honored worker of science and technology of Ukraine .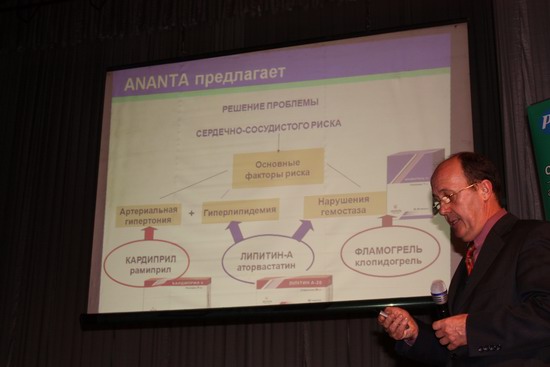 In his report the author stressed on the importance of antiplatelet and lipid-decreasing therapy, which is the core of cardiovascular accident prevention. Timely indication of statins (Lipitin A – active substance: atorvastatin) and antiaggregants (Flamogrel – active substance: clopidogrel) allows to decrease significantly the risk of infraction, strokes and other cardiovascular accidents development and therefore to prolong patients' life.